SOLANG

Solang is a beautiful valley located about 15kms from Manali. It is famous for its ski slopes in winter and breath taking views in summer.

Solang Nala, primary source of the Beas, is a veritable textbook model of the gradations in alpine landscape, flora and fauna, all compressed within a few kilometers. At the head of the Solang Nala is the Beas Kund plain, encircled by a great amphitheatre of peaks, glaciers and icefalls.

Prominent, is the Hanuman Tibba massif at nearly 20,000 feet, its eight km long glacier giving birth to the main stream of the Beas. In 1977 Solang Nala was proposed as a possible UNESCO biosphere reserve under the UNESCO project on Man and the Biosphere. Unfortunately for Solang Nala, nothing came of it and today the valley is under severe ecological stresses. Extensive road building activity, especially in the Upper Solang Nala, and the attendant destruction of the forests as they become more amenable for exploitation, has led to the disappearance of bird and animal species frequently seen in the area 15 years ago.

Fully 1,800 square kilometers of land in the Upper Beas is designated as Reserved or Protected forest. But appearances can be misleading. Species diversity is on the decline and the moist temperate forests, home to various species of Himalayan wildlife are fast disappearing. Species seen frequently in Solang Nala in earlier years included the rare Western Tragopan pheasant, The Monal pheasant, the Himalayan Black Bear, Leopard, Yellow throated Marten, the Musk deer, Serow, Tahr and Ibex. The last four mentioned, ungulates, seem to have almost disappeared from the area nowadays, as has the Tragopan pheasant.

WHMI, Manali organizes special ski courses here and members of the club have been learning the art of skiing here over the years from some of the best skiiers of India.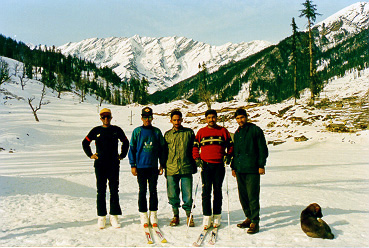 Members of club with Instructors of WHMI, Manali
The legendry snow man at skiing courses