BASE CAMP
The base camp of the club is a highly active place with a number of activities going on. The infrastructure of the base camp is as follows:
Office: The Directorate of Students' Welfare, Giri Centre, CCS Haryana Agricultural University, Hisar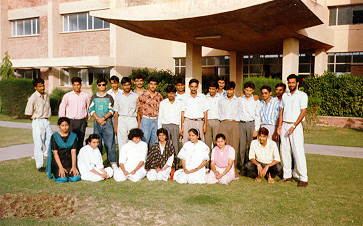 Members of the club outside Giri Centre
Store: All the equipment of the club is kept in the store of HAU mountaineering club, at the ground floor of the Giri Centre. Before the departure on any tour, members assemble in the lobby of the Giri Centre to obtain the kit and similarly get together to return the equipment, once the tour is over.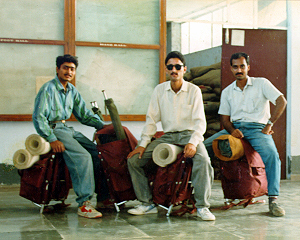 What's in store for us!
Meetings: We have a new meeting room, on the top floor of the Pathology Building at the College of Veterinary Sciences. Special meetings/student sessions are held here.
The executive body meetings are held on any of the campus canteens.
The general body meetings are conducted in the auditorium of College of Basic Sciences and Humanities.
Practice Sessions:
Practice sessions for High Altitude Treks involves Walks of 8-10 km daily, with 8-10 Kg Rucksacks on the back.
Participants undergo Tent Pitching and Knot Practice sessions also at the Giri Centre.
Practice sessions for Rappelling, Jumaring and Prussiking are conducted on the tall buildings of the campus including the Fletcher Tower, Bachelor Flats and College of Basic Sciences and Humanities Building.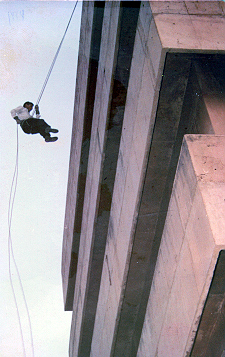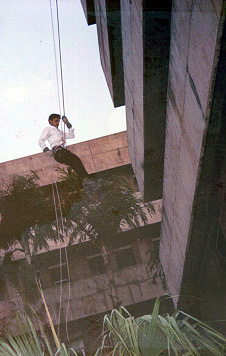 Demo for Long Sling Jumping Reppling from COBS&H Building
Practice sessions on First Aid and Emergency are also conducted with the help of HAU Hospital.
Keeping Fit:
The club members use the facilities of Giri Centre sports complex to train their bodies before any adventure tour. Special sessions are conducted days before the actual departure to tune the fitness levels of participating members.
Ration Procurement: The ration procurement is usually done from Shop Number 4 and or Shop Number 9 of University Shopping Centre.
Medicine Procurement: The University Hospital provides First Aid Kits for the participating members. In addition, certain drugs and applications are procured from University Medical Hall (Shop Number 3, University Shopping Centre).
Endless Talking Sessions: Unending planning, chatting, joking and visionary sessions take place in the Hostel Rooms, Surte's Tea Khokha (Gate number four), Goochi's Tea Stall (University Shopping Centre), Haryana Juice Corner (University Shopping Centre), On the banks of Lacchu Johr (Next to Indira Gandhi Auditorium) and the mess halls of the hostels.